Nalanda University-India's glorious past and future...
---
Nalanda University-India's glorious past and future....
Bihar witnesses a quiet transformation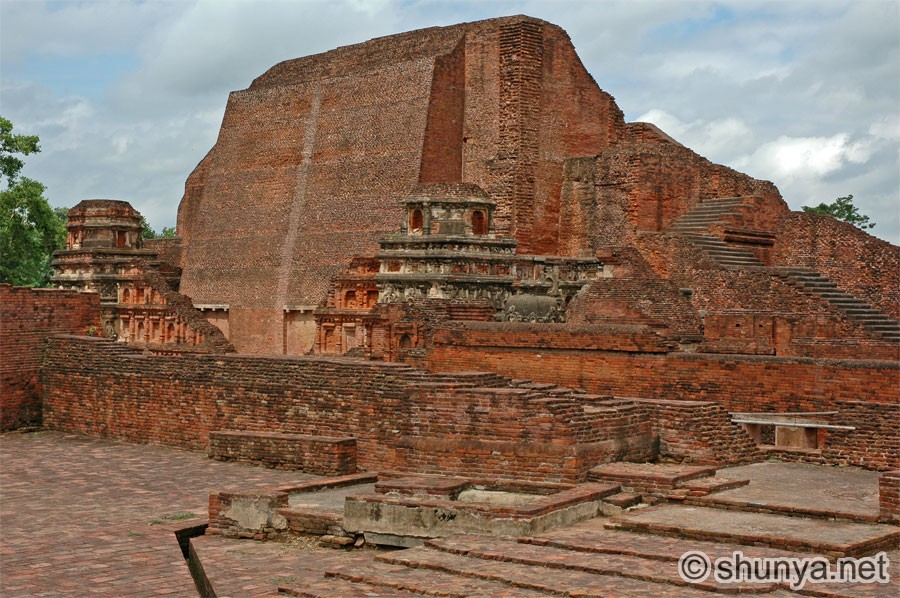 ---[img]
koi lautaade india ke beete hue din
IMPORTANT NOTICE: No media files are hosted on these forums. By clicking the link below you agree to view content from an external website. We can not be held responsible for the suitability or legality of this material. If the video does not play, wait a minute or try again later.
I AGREE
VIDEO-2
Video-3
Quote:
Two and a half years ago, Chief Minister Nitish Kumar won a historic election on the promise of reversing the chaotic legacy of the Lalu Prasad Yadav era, a time when Bihar made repeated headlines - either as India's basket case or for the colourful antics of the Yadav family.

Lalu's government has been voted out and it is now the turn of Nitish Kumar. But will it be possible to reform Bihar?

''Fewer journalists come to Bihar now. Earlier, there would be a steady stream, even from organisations like BBC and CNN. I think their visits have come down because there is not enough crime, no caste massacres,'' said Maqsood Bhai, driver.

If the quietening of violence is why Bihar no longer hits the headlines, Chief Minister Nitish Kumar has reason to be content.

''Earlier, when we would begin to build a road, we would get threatening calls from criminals demanding money. We would stop work and go away,'' said Ashwani Kumar, site manager, road construction site.

NDTV: Now?

Ashwani Kumar, site manager: Now, most criminals have either been arrested or have fled. When the administration gets tough, criminals run away.

The first and the most dramatic change is that there is less fear of crime. Whether real or a matter of perception, when you drive out in any direction from Patna you will find a road being built.

''Since Independence, my village had no road, and we had to wade through water. Now a road is being built,'' said truck driver.

''With so much road construction material to be transported, truck drivers don't need to travel outside Bihar,'' said young labourer.

''Earlier, 25 per cent of the money would be spent on the road, the rest would be siphoned off by contractors. Now, 75 per cent of the money is used,'' said site manager.

In Arrah, a site manager explains to NDTV what's propelling this boom.

''There is stricter supervision by officials. Even contractors feel it is in their interest to complete work on time. Earlier, with limited work, the idea was to earn maximum profits by diluting quality. Now the quantum of work has increased, so there is more profit to be made if you complete work on time,'' said site contractor.

Bihar's Road Secretary R K Singh is tough on deadlines both for contractors and his own department.

He knows it's key to getting funds from foreign agencies like the Asian Development Bank, one of the many sources to pool together massive unprecedented funds for road expansion.


2003-04: 51.2 crore


2007-08: 2,222.8 crore

Reason why even contractors from outside, once wary of Bihar, are willing to invest.

''Who says no one wants to work in Bihar?'' asked R K Singh, Road Secretary, Bihar.

A new proactive bureaucracy, new contractors, a newer work ethic but what about older problems?

Back on the same highway further away from Arrah, a 14-km stretch still lies un-built.

NDTV: Who is the contractor?

No one wants to name the contractor as he is powerful politician Surendra Singh who is married to a ruling JD(U) MLA Asha Devi.

Blacklisted for repeated delays, his contract had been cancelled. But when new bids were called no other contractor turned up. Singh's muscle and intimidation had ensured others kept away.

Surendra Singh, Anant Singh and Lalan Singh are some of Nitish's party men who regularly appear in criminal records.

Their presence has meant any crackdown on crime is seen as targeting only petty criminals. Worse, as they are Bhumihars or upper caste landlords it's meant Nitish's Sushasan or good governance is mocked as Bhushasan or the rule of the Bhumihars. So is this once again a government where caste rules?

''In Lalu's regime, everything had collapsed. But now, under Nitish, slowly everything is getting back on track,'' said Naval Kishore Rai, farmer.

NDTV: Do you belong to the Yadav community?

Naval Kishore Rai: Yes.

NDTV: Are you happy with the government?

Naval Kishore Rai: Yes.

NDTV: There is no element of caste?

Naval Kishore Rai: No, we are happy with the way the government in working.

Caste doesn't matter, if the government performs says Naval Kishore Rai. For him proof that it is the revival of this government nursery.

''The nursery was dead for 15 years,'' Rai further said.

NDTV: Where were you working earlier?

Birendra Paswan, nursery worker: I was working in a farm in Haryana

NDTV: Are you happy to be back in Bihar?

Birendra Paswan: Of course. Under Nitish's government, with so much work being generated under the Employment Guarantee Project, many people are coming back. Why would anyone work outside, when he can stay at home?

The greenhouses have been set up under the National Horticulture Mission. The road leading to the nursery has been built under the National Rural Employment Guarantee Scheme. Both are central schemes.

The money has come from the Centre. But as everyone knows, the problem in Bihar has never been funds but their utilisation and execution.

And when it comes to execution, Nitish's government is way ahead.

''During the previous government's time, only pigs and dogs wandered here. Nobody used to come. Nobody thought anything works at a government hospital,'' said Chandra Uday Kumar, villager.

In Harnaut, a first hand view of the breakthrough in health can be seen. A doctor in attendance, medicines in stock, a generator to kick in when power fails and an ambulance stationed outside.

''There has been wide publicity about the hospital, and patients come with the knowledge that all facilities are available. But the hospital faces some problems. We need at least 7 doctors, but we have only 3 or 4,'' said Raj Nandan Prasad, Doctor.

Shortage of staff, a chronic problem in India but magnified in Bihar, where for 15 years government appointments had come to a standstill.

Reason why a focus area for Nitish has been appointments, a key decision: The appointment of 2 lakh new teachers.

''New teachers with a fresh style of teaching has meant more children have started attending school,'' said Promodini Devi, Principal.

''I completed my training as a teacher in 1987. But for 17 years, there were no jobs. The previous regime stopped recruiting teachers despite the number of school students going up. We took on the government in the high court. But this government took back the case. After years of unemployment, I have finally joined a school and I teach with great enthusiasm despite the lost years,'' said Nagendra Sah, new appointee.

But in changing Bihar perhaps, what's not changed is exchange of bribes.link
--
---
Last edited by max de Indiana; July 17th, 2008 at

08:40 PM

.