So yesterday, I read the news that India and Pakistan will be playing cricket again - 3 ODIs or something in December. No big deal, I thought. All is forgiven and forgotten, as usual. 26/11 is history. Except for those who lost their near and dear ones, nobody remembers.
Then I read the news that, in the next IPL, Puki players will once again be included for auction. Wah wah, badhiya, I said. More money for our friendly neighbors, why not. I'm sure they'll put it to good use.
And today, I just read this news:
Quote:
India might become home for Pakistan cricket

Pakistan's board asks to play its series with Australia [ Images ] at Mohali; also wants to take on lease another Indian venue


India [ Images ] might see much more of Pakistan, especially on the cricket field, in the coming days. In search of secure real estate to play the game, Pakistan has proposed to the Board of Control for Cricket in India (BCCI) that Mohali, adjoining Chandigarh, be one of two stadia in India where it can play home matches in the future.
"We are thinking about it," said a BCCI source. The immediate proposal is to have the Australia-Pakistan home series match in Mohali, because no team is ready to go to Pakistan after militants attacked the Sri Lankan team at Lahore [ Images ] in 2009.
Pakistan, therefore, has no real estate where it can play international matches, unless it plays on neutral ground. Also, it has been forced to host all its home series abroad.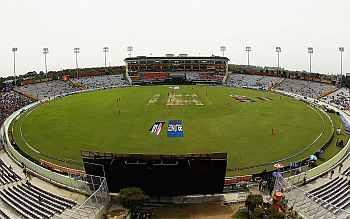 The Pakistan Cricket Board (PCB) cites this as a major reason for its deficit budgets for the last two financial years. Australia has not played in Pakistan after 1998 due to security issues.
Initially, Dubai [ Images ] was considered, for a series of three One Day Internationals (ODIs) between Australia and Pakistan, from August 27.
But the Australian Cricket Association is faced with a near-mutiny from its players, who have demurred at playing in Dubai's August heat. Pakistan considers Mohali relatively safer because the Punjabi network and sentiment is strong. More, Lahore is literally minutes away by road.
Singapore, Malaysia and other venues have been considered. But these, cricket organisers say, are not so attractive, considering the television revenues. Pakistan, which is understandably anxious to play the matches, was supposed to play three ODIs and three Twenty20 [ Images ] Internationals in Abu Dhabi, Sharjah and Dubai from August 27 to September 10.
These could all now be played at Mohali.
Negotiations are on for the second stadium that the Pakistan Cricket Board wants to lease to hold matches. PCB has left the choice of the venue to BCCI.
If the Mohali matches are a success, India could become a frequent venue for cricket matches to be played between Pakistan and other countries, leading to a further deepening of understanding and empathy between the two countries.
Link
(baaki links khud dhund lena)
It really doesnt get any better than this