Souten ( 1983 )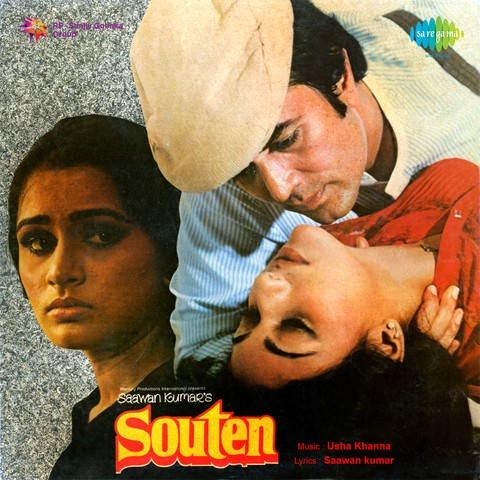 Set on the beautiful island of Mauritius , which has a majority of Indian descended population , the movie has an interesting and modern take on the relationship between hindu God Krishna and his chief wife Rukhmini and the other woman in their life of whom Rukhmini is constantly jealous . This is Radha , the eternal devotee of Krishna with whom he has a deep but platonic relationship . Unlike Rukhmini and Krishna who have physical relations , Krishna and Radha do not have physical relations but instead a deep love that is so legendary that they are worshipped together as if they are a couple and many times we find idols with Krishna and Radha together....but never is an idol found of Krishna and Rukhmini together . This is of course a constant source of anxiety to Krishna's chief wife Rukhmini , and the film is based on this triangle . But an interesting twist is added in the film---Radha in the film belongs to the lowest caste in Hinduism which is considered untouchable by upper castes ; that is , even touching people of her caste is considered filthy by upper castes .
So on to the story of the movie---Shyam ( another name of Krishna ) is played by Rajesh Khanna who is the Krishna of the movie , and he is a self made man who has risen from humble origins to become a successful owner of fishing ships . One day a man called Gopal ( played by Sriram Lagu ) from the untouchable caste comes to him for a job and begs him to give him the job as his daughter is not even having food to eat at home . Shyam takes him in and soon is impressed by his devotion to his work , so he makes his second in command in his venture . Gopal is so grateful to Shyam for this promotion that he daily tells about the kindness of Shyam to his beautiful daughter Radha ( played by Padmini Kolhapure ) and hearing his stories she soon falls in love with Shyam even without meeting him .
Shyam is ambitious and goes to meet the head ( Raisaheb played by Pran ) of a finance corporation to get a loan for buying more ships . Raisaheb is impressed by his plans and arranges the loan and also invites Shyam to a party , where he is introduced to Raisaheb's daughter Rukhmini with whom he develops an instant attraction . Rukhmini is stunning and stylish and fashionable and hungry for love . Inspite of opposition from her maternal uncle ( played by Prem Chopra ) and her mother , she gets married to Shyam . When Radha hears of this , she is obviously disappointed that she could not get Shyam . But she quickly adjusts to this reality and continues to love Shyam without even having met him once !! But Rukhmini detests these lower caste people and refuses to associate with Radha's father Gopal .
Being from a very rich family , Rukhmini is used to having her way and her passion for gambling brings out friction with her husband Shyam . One day she on the advice of her mother gets herself operated for not having children for a long time because she does not want to lose her figure in pregnancy . But the operation results in her becoming never capable of having children , leaving Shyam devastated . The couple begins to draw apart .
In the midst of all this , Gopal invites Shyam to his house for lunch and Shyam and Radha finally meet . Shyam is instantly drawn to Radha and he begins to meet her regularly to soothe his mind . The much in love Radha gladly obliges . One day a big ship that Shyam has purchased on the loan he got capsizes and loses all it's men and his money . Once more he goes into the arms of Radha to forget his troubles and this time she holds him in her embrace . And forces him to sleep that night in her house because a thunderstorm has made it impossible for him to move out . But there is no sex between them and the relationship remains chaste .
But Rukhmini's maternal uncle seizes the chance to claim that they ( Shyam and Radha ) slept together and rouses the jealousy of Rukhmini . Mad with jealousy , she invites Shyam and Gopal and Radha to a party where she dances with lascivious movements in exposing clothes and becomes increasingly drunk . And at the end she confronts Shyam over his relationship with Radha . Angry and frustrated over her behaviour , Shyam admits to loving Radha and in return gets slapped by Rukhmini . She runs to her father with the news and gives him a heart attack by which he dies . But she continues to love Shyam still . It is upto Radha to clear the misunderstanding and bring the couple she worships ( Shyam and Rukhmini ) together . And to do so , she plays the ultimate price....gives up her own life .
Embellished with beautiful background music and superb songs , the movie was the last triumph of the superstar of yesteryear---Rajesh Khanna . For it was his last hit as hero of a film . His then girlfriend Tina Munim played Rukhmini with aplomb and looked stunning in the latest fashionable clothes and styles . Today when the untouchables have begun to forsake the hindu religion for buddhism , it was nice to see a time when the role of hindu God Krishna's companion Radha was done by a girl shown to be of the untouchable caste in hinduism . And nobody complained . Padmini Kolhapure has done justice to that role .
Verdict---Good .
Four stars out of five .